El rio sin tacto
The story of the 1928 Emilio Amero - Gilberto Owen collaboration
Andrew L. Phelan
| Perfect bound (158 - illustrated including the complete Owen filmscript) |
$35
ISBN13: 978-0-9788570-2-8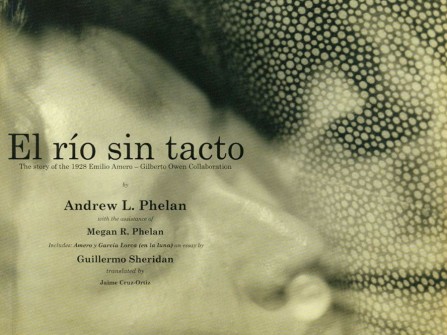 In 1928, the same year that Salvador Dali and Luis Buñuel made Un Chien Andalou in Paris, a young Mexican poet named Gilberto Owen, began collaborating with Emilio Amero, an equally gifted young artist who was also a photographer and experimental film-maker on the script of a surrealist film that rivals the Dali-Buñuel creation. Their efforts resulted in the creation of a script entitled El río sin tacto, and in the fall of that same year, they began work on filming it. However, the poet Owen (who was in the dipliomatic corps) was dispatched to Detroit and subsequently to South America where he spent many years. Amero began his highly publicized collaboration with Garcia Lorca the following year and then went to Mexico, before returning to the US some years later. Owen and Amero never again met. Following the separation of the collaborators the script vanished from sight where it has remained until now.
This book tells the story of the reappearance of this masterpiece of surrealist filmmaking that failed to be completed. The story of the creation and almost miraculous reappearance of the script gives readers new insights into a long vanished era when New York City served as a creative Mecca for artists of many nationalities and fostered avant garde art and film-making.
Included in this book is a wonderful essay by Dr. Guillermo Sheridan, internationally noted scholar, who postulates that the Owen and Garcia-Lorca scripts may be considered as a collaboration on a common task with Amero.