Andrew L. Phelan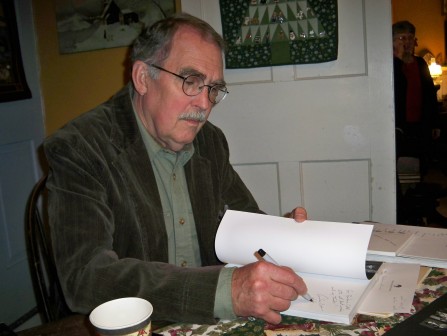 Andrew L. Phelan signing copies of his book Becoming the Village Potter in December 2012.
Andrew L. Phelan is an individual with many interests. While this is Phelan's first book of photography many of his previously written books (six in total) have incorporated his photography. He has also edited another volume of travel. In addition to writing, creating or editing books, he has organized 12 exhibitions and published more than a dozen articles on art, crafts, history and studio art education that have appeared in several languages. Beginning his career as a high school art teacher, Phelan then served with the 101st Airborne Division in Vietnam as a medic where he was awarded a Bronze Star and Purple Heart. Following his army service, Phelan was a professor for more than 30 years and served as dean, director or chair of programs in higher education. His public service included work on a number of accreditation teams, panels, juries and committees and as consultant to departments of education for several states and to the United Nations. He has worked as a consultant to an international company in Japan and given numerous invited presentations in the United States and abroad to various audiences. Phelan has traveled professionally to many places in the United States as well as to China, England, France, Italy, Korea, Spain, Mexico, Japan, Israel and the Caribbean. Phelan has exhibited paintings in New York and elsewhere and has participated in a number of innovative multimedia projects. His biography has been included in Who's Who in American Art for more than twenty years. Phelan's current projects include finishing the biography of an artist/photographer that will incorporate a number of previously unpublished images as well as writing the biography of a sculptor.

Phelan was educated at the Pratt Institute [BS, MFA] and at New York University [PhD].